Okay, we have a fragrance outlet here and I just love the Pink Sugar fragrance by Aquolina, my store only carried samples and I never got a chance to purchase a regular size, I have waited years for them to get this in & they have just stopped carrying the perfume all together. Now after this long wait I just went ahead and purchased me a bottle online. So HAPPY :)
Many say it's for teens but I think every since I was introduced to this fragrance it's the only thing I will wear. It is so sweet and it doesn't take much at all. Yes it make heads Spin. It's a very seductive wear to me and I just like sweet smelling aromas.
Here is the fragrance notes:cotton candy, caramel, raspberry, bergamot, licorice, poweder, fig leaves, orange, strawberry, and wood.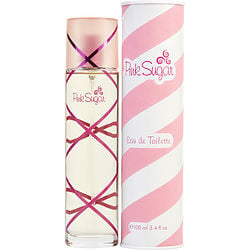 I have read other reviews & many older adults say the same thing, even though most say it's for teens they have wore it for years, I'm in the same boat.
I also got a little bit off to as I ordered a Tester so I hope it's full when I get it. It should arrive Thursday! I'm so excited. I will snap a photo of it soon when it arrives.
Have you been looking for it too, you can get it here
PINK SUGAR by Aquolina EDT SPRAY 3.4 OZ *TESTER for WOMEN
If you don't want a tester you can still get a big full bottle
PINK SUGAR by Aquolina EDT SPRAY 3.4 OZ for WOMEN
You can read other reviews
here
too, I haven't wore it in so long that I can barely wait for it!
Reviews
Next time I may get a bit more to go with my perfume.
Other Aquolina Items if you don't wear perfume or to compliment your perfume.
---
Not sure how I overlooked the
PINK SUGAR by Aquolina BODY SPRITZER 5 OZ for WOMEN
This is my favorite Perfume and it doesn't cost much to give it a try! It will also make a Great gift for any occasion too. Happy Shopping, if you haven't tried it now is the time!